Sara Winokur's latest-thriller, Double Blind: The Icelandic Manuscript Murders, brings you into the world of mysterious letters, cold-cases, and unexplained occurrences. Winokur draws on her 25-year experience as a research geneticist and her admiration for John Grisham and John Clancy in order to bring genetics into mystery in an engaging way. If you love Grisham's legal thrillers and Clancy's portrayal of espionage as much as I do, you will love Winokur's scientific take on thriller.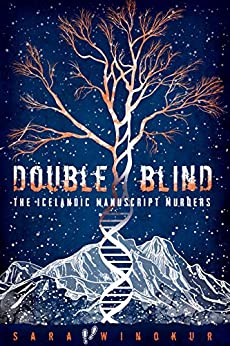 Winokur takes her genetic expertise even further by teleporting readers to Iceland's national DNA Database. The DNA database is not a criminal database, but a bank of citizen-donated DNA. Double Blind and its emphasis on the storage of public DNA made me evaluate the problematic implications of personal privacy and government expansion in the real-world. The role of the DNA database and the character's differing relationships with it, forced me to reconsider the pros and cons of DNA storage and access.
Moving beyond genetics, I found Winokur's descriptions of Iceland's haunting landscapes and eerie farmlands particularly captivating. Double Blind delves into a fascinating world that I, as a reader, had yet to discover. From poisonous plants to the Icelandic sagas, the book covers many of the intricacies of Icelandic culture and food. Iceland, a country rarely explored by American novelists, is the most fitting setting for Winokur's thriller. The country is relatively isolated and its labyrinth-like landscape provides the perfect backdrop for the mysterious disappearance of a young boy.
The novel centers on Brynja, a forensic geneticist, who finds a strange poem on her desk that gives her hope that her twin brother, who had disappeared in North Iceland two decades ago, may still be alive. Brynja analyzes the poem further and she discovers that people around her are receiving poisonous food packages with warning notes demanding she halt her search for her brother. People who ate the food suspiciously die, leaving readers with more questions than answers.
I found Brynja's character to be extremely relatable and a great guide for my virtual-Icelandic adventures. She is extremely bright and determined (she is the head of the forensics department at a DNA biotech company in her early-20s), but she over-extends herself and tries to do everything by herself. Brynja also suffers from Alice and Wonderland Syndrome, a condition where people view things as larger or smaller than they really are. While Double Blind's characters, like Brynja, are more than capable of standing on their own, Winokur is bringing back many of the beloved characters in her next novel, Ivory Bones.
This fun, fast-paced thriller that engages with real-world issues of DNA databases and genetic privacy will not leave you disappointed. Winokur's book reads very much like a movie sequence, which is great for those of you (like me) who are always looking to finish the latest Netflix true crime documentary. Whether you need a book to get your through the extended-pandemic or a page-turner to keep you company on the weekends, Double Blind: The Icelandic Manuscript Murders has got you covered. Get your copy of and learn more about Sara Winokur on her website and her page on TheBookFest.com.
You might also enjoy: